Get the best seat in the house to experience all the action, live at GMHBA Stadium. Also, use our Seat Return to get money back on your Membership^

Your own Reserved Seat at every Cats GMHBA Stadium home game
Option to lend your seat to other Cats supporters and Members to games you cannot attend, to receive a credit towards your 2021 Membership^ via our Seat Return Program - find out more here
General Admission access (seats or standing) to remaining Cats home games at MCG or Marvel Stadium* - just scan your Membership card at the gates
Priority access to buy tickets in weeks 1 to 3 of the AFL Finals
Priority '2' access to buy Grand Final Tickets*, should the Geelong Cats compete
Go into the draw to win a brand new 2020 Ford vehicle#
2020 Member Kit, including Member Choice for eligible members
Free entry to Cats 2020 Marsh Community Series Games*
All the other regular Cats Member Perks
Latest Cats news and updates direct to your inbox
Interested in this product and want more information? Please click here to register your interest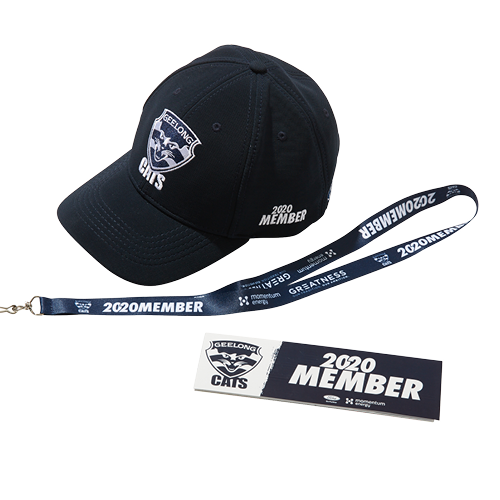 Adults from
$38 /mth
$380 /yr
Concession from
$30 /mth
$300 /yr
Youth from
$26.50 /mth
$265 /yr
Junior from
$16.50 /mth
$165 /yr
Family
$91 /mth
$910 /yr
*Subject to availability
^Additional fees and charges apply. Entry is subject to capacity and may not be guaranteed. Upgrade via eligible ticketing outlet at a reduced cost for Members only
#Must be 18 years old or older and an eligible Member to be in the running for the Ford Vehicle giveaway
Please Note: To be eligible for a Junior Membership or to be included as a Junior within a Family Membership, the Junior Member/s must be 14 years of age or less at 01/01/2020. For a Family Membership adults must not exceed 2 people and number of Juniors must not exceed 4 people.
Youth is considered any student from age 15 or over attending a secondary school. A Student ID card or enrolment information must to be eligible for this Membership price
A valid/eligible concession card must be presented to Membership Services to be eligible for concession pricing
Payment Plan:
The 'per month' payment divides into 10 instalments. The first instalment is taken at time of purchase and remaining on the 4th of each month commencing in January 2020 and concluding in September 2020. Click here for Payment Plan terms and conditions.
If you sign up by 30 April 2020 you will go in the running to win $10,000 cash. For further details and terms & conditions click here.